A New Milestone for the Progress of Hellenism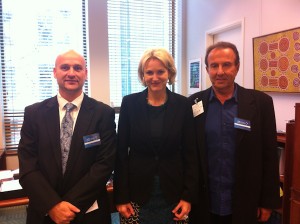 Once again, the Annual National Conference of the Australian Hellenic Council (AHC) took place on the weekend of 15th-16th September 2012 in Canberra. In addition, pre-arranged meetings at Federal Parliament House were conducted on Monday the 17th of September 2012. The conference was attended by delegates from Victoria, New South Wales, South Australia, ACT, Queensland and Western Australia.
The AHC is the peak umbrella body representing the Australian Greek community nationwide.
Present at the conference was also the Acting Ambassador of Greece to Australia, Mr Loukas Tsokos and the High Commissioner of Cyprus, Mr Yianni Yiacovou whereby both diplomats spoke to the delegates and passed on their messages of congratulations for hosting such a successful and unified event. Ambassador Tsokos and High Commissioner Yiacovou also provided an analysis on Hellenic national issues as well as current events in Greece and Cyprus.
The National Conference was marked as a success with national representatives from the largest Greek Australian Federations, Greek Orthodox Communities, and organisations from across Australia participating.
Young Australians including Peter Doukas, Sophocles Kitharidis, Lex Georgiou, Michael Christodoulides and Eleni Efthymiou, representing peak Hellenic organisations, participated at the national conference and took the lead in presenting issues to our Federal Parliamentarians. The youthful charisma and leadership evident when presenting Australian Hellenic issues assisted our MP's in acknowledging that these issues hold particular relevance to the wider Australian Hellenic community and to Australian society as a whole.
The AHC successfully articulated issues that were relevant to Hellenes in Australia and the wider diaspora. The issue of Greek migration to Australia was discussed with a number of MP's including the Minister of Immigration and Citizenship, The Hon. Chris Bowen. All were receptive to the AHC's claims and acknowledged that they would be looking further into these issues. Other key issues of concern including the "Macedonian" issue, Cyprus question, the Christian Genocide of Anatolia and the violation of civil and human rights of the Greek minority in Northern Epirus, were also raised. The two day conference was also a widely held success with the National Charter being unanimously ratified by the delegates. This step forward will provide the AHC with the ability to operate with greater efficiency, on a wider scale, and with more resources and therefore providing the Hellenic-Australian community with a more effective and cohesive voice.
It was further agreed that leading up to the first implementation of the Charter in June 2012, the National Presidium, will consist of the National President, Mr Evan Kakulas (also the State Coordinator for WA), the State Coordinator for NSW, Mr John Petropoulos, and the State Coordinator for Victoria, Mr Peter Jasonides.
The AHC believes this conference served as the beginning of a new era of cooperation between the different Hellenic Communities in Australia, and will act as a milestone for future generations.