CYPRUS ranked 69th among the 85 medal winning countries at the London Olympics, which ended last Sunday.
Overall, athletes from 205 countries competed.
The island took home one medal, the silver in men's laser won by Limassolian Pavlos Kontides, 22. It was the first Olympic medal ever won by a Cypriot.
Fellow sailor Andreas Kariolou ranked 17th after competing in the RS-X sailing event.
Cyprus Mail : Published on August 17, 2012
In track and field, high jump athlete Kyriakos Ioannou, 28, secured a place in the final and ranked 13th.
It is the first time a Cypriot athlete has managed to qualify for track and field final since 1980 when Cyprus started competing as an independent state at the Olympics.
Another track and field athlete, Eleni Artymata, who competed in the women's 200m, ranked 17th out of 24 in the semi finals.
Cypriot international tennis player Marcos Baghdatis advanced to the 3rd round and lost to Briton Andy Murray, who eventually went on to beat Roger Federer and win the gold.
Cypriot skeet shooting athlete Giorgos Achilleos ranked 11th overall in the qualifying round. Fellow athlete Antonis Andreou ranked 22nd in the same qualifying event. Young skeet shooting athlete Panayiota Andreou ranked 16th.
Discus thrower Aposolos Parellis ranked 13th in the qualifying event.
Swimmer Anna Stylianou competing in the women's 200 m freestyle heats came 4th but did not manage to pass to the semi finals.
Competing in the men's hammer throw Constantinos Stathelakos ranked 33rd out of 38 athletes.
Finally, twenty six year-old Cypriot athlete Marios Athanasiades, the first Cypriot cyclist to take part in a men's cross country cycling in the Olympics, came 40th out of 50 competing athletes.
"I think it was possibly the most successful effort of Cyprus in Olympic Games ever", said Olga Piperidou leader of the Cyprus mission at the games. "Our athletes gave it their best".
Hero's welcome for Olympic champ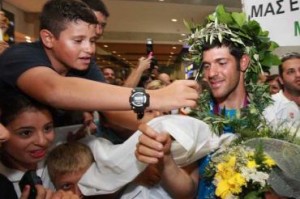 Story from Cyprus Mail by Elias Hazou Published on August 10, 2012
CYPRUS' first-ever Olympic medal winner Pavlos Kontides was treated to a hero's welcome at Larnaca airport yesterday, as his hometown of Limassol prepared to party well into the night.
Kontides' flight arrived with about a half-hour's delay, which only served to work the waiting crowd into a frenzy.
The airport terminal was flooded with fans, honking horns and holding up banners reading: "Thank you Pavlos."
Fire engines sprayed a water arc on the runway close to the bay where Kontides' plane docked. A similar honour was bestowed on the Anorthosis football club in 2005 after they eliminated Turkey's Trabzonspor in the UEFA Champions League qualifying rounds, and to tennis star Marcos Baghdatis for progressing to the Australian Open final in 2006.
The crowd broke out in chants once a slightly weary but beaming Kontides finally walked out into the passengers terminal.
"I feel very proud and emotional right now," Kontides said in his first comments to television news crews broadcasting the welcoming live.
"I cannot put these feelings into words. I'd like to dedicate this medal to my family, my girlfriend, my coaches – the folks who believed in me all along and supported me," he said, promising yet more success in the future.
Kontides was greeted at the airport by Education Minister George Demosthenous and Larnaca mayor Andreas Louroutziatis, who handed him a commemorative plaque.
Donning an Olympic wreath on his head and proudly holding his silver medal in his hand, Kontides then waded through the crowd and boarded a bus headed for Limassol.
Kontides and his entourage were expected at the Limassol Nautical Club for an initial welcoming and party.
"From what I hear, there are going to be souvles [barbecue] until the morning hours," his coach said.
A public welcome has been arranged for 6.30pm today at the Enaerios area in Limassol, where Kontides will be receiving various accolades from local sporting bodies.
Kontides' Limassol Nautical Club is also expected to put on a sailing demonstration during the festivities.
This morning, the athlete will be honoured with the Grand Cross of the Order of Merit of the Republic of Cyprus. He will be presented with the distinction in a ceremony with his family and President Demetris Christofias at the presidential palace.
Kontides won Cyprus' first medal at an Olympics when he took the silver in sailing's Laser class in Weymouth, England.
Currently ranked 11th in the world, Kontides gave up his university studies for two years, and suffered through a number of injuries during his training.
Cyprus started taking part in the modern-day Olympics at the 1980 Moscow Games.
Kontides said on the Cyprus Sailing Federation website that he was inspired by his father, himself a Cypriot sailing champion and former federation chief, to take up the sport at age 9.
His coach said yesterday that Kontides has potentially three more Olympic Games in him provided he stays fit.