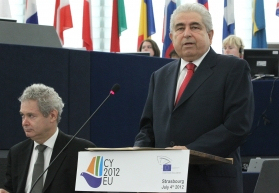 On the occasion of the assumption of the rotating Presidency of the Council of the EU by Cyprus, the President of the Republic of Cyprus HE Mr. Demetris Christofias officially presented on the 4 July 2012, the Cyprus Presidency programme before the European Parliament's plenary session in Strasbourg. At the plenary session the MEPs had the opportunity to ask the President questions about the Presidency.
During his presentation, President Christofias pointed out that the Cyprus Presidency of the Council will seek to contribute with all its powers towards the construction of a Better Europe, with social cohesion, prosperity, security and growth, with more visible benefits for the prosperity of European Citizens.
The Priorities of the Cyprus Presidency thar were presented by President Christofias refer to four focal points:
A. A Europe that is more efficient and viable
B. A Europe with more efficient economy, based on growth
C. A Europe that means more to its citizens, with Solidarity and Social Cohesion
D. Europe in the world and closer to its neighbours
Following the plenary session, President Christofias, President of the European Commission Jose Manuel Barroso and the President of the European Parliament Martin Schulz gave a joint press conference.
For further information and press releases on the Cyprus Presidency of the Council of the EU, please visit the official website at https://www.cy2012.eu/
Please also note that the website of the Cyprus High Commission at www.mfa.gov.cy/highcomcanberra also provides updated information on the events and meetings held under the Cyprus Presidency of the Council of the EU, as well as on cultural and other events organized in Australia.