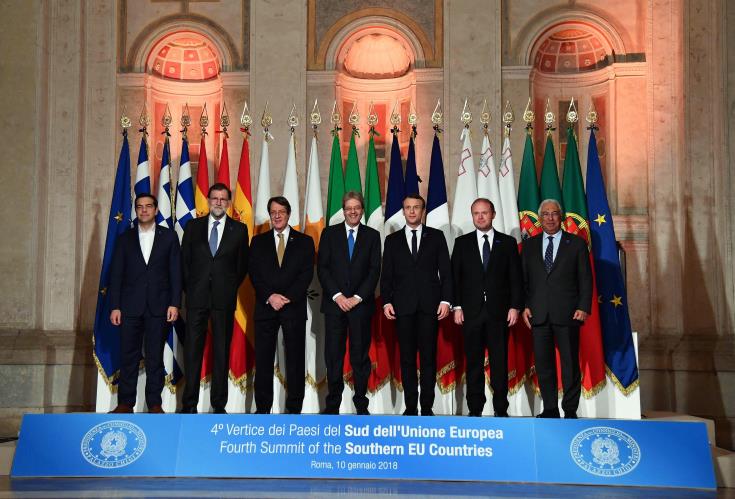 President of the Republic of Cyprus Nicos Anastasiades briefed on Wednesday the leaders of the Southern EU countries on recent developments in Cyprus` Exclusive Economic Zone, Turkey`s illegal actions in the Cypriot EEZ, and hydrocarbon exploration in the wider region.
In statements to journalists on the sidelines of the 4th Southern European Countries Summit, that took place on Wednesday in Rome, the Cypriot President said he was satisfied with the discussions held during the Summit and added that the existence and strengthening of a better Europe is hindered by the continuation of a European problem which has remained unresolved for 44 years now, referring to the Cyprus problem.
"The common goal is to find a mutually acceptable solution of the Cyprus problem on the basis of the European principles, the European acquis so that by creating a truly independent country without the system of guarantees or intervention rights and occupation armies, all Cypriots, Greek Cypriots and Turkish Cypriots, can enjoy the benefits of Europe", the President said.
In addition, he pointed out that the leaders had the opportunity to discuss energy security issues in Europe, and in this context he briefed the leaders of the six EU Southern states on recent developments in Cyprus` EEZ and on the hydrocarbon discoveries in the region, `which constitute a very important development and which I believe with the East Med pipeline can offer a source of security in the EU.`
The Cypriot President also said that he briefed his counterparts on Turkey`s illegal actions and violations as regards Cyprus` sovereign rights in its EEZ.
Referring to the deliberations at the Summit, he said EU leaders discussed ways to strengthen economic development, to help secure a better standard of living for all citizens.
"We believe that with the completion of the EMU, the creation of the right conditions to boost investments – that will lead to an increase in the number of jobs offered – we will achieve the goal of greater prosperity for our peoples, which also constitutes the aim of our European vision", the President of the Republic said.
Another item on the agenda, he said, was immigration. He added that the leaders expressed satisfaction with the positive results of the measures adopted so far, but noted that "we must remain vigilant due to the immigration routes and flows that change depending on the traffickers" choices." President Anastasiades said that they agreed that solidarity is needed to support the countries which are mostly affected by immigration flows.
Concluding, he said that Cyprus is looking forward to host the 5th Summit, in March at the latest.